Instagram Stories: The Time Has Come.
Written by: Tamela Young, Summer Intern through Open Doors Academy
So, why do I have to make Instagram Stories?
Instagram Stories is a newish feature on the app and a smart way to connect with your audience in real time. If you're just using Instagram and not Instagram Stories for your small business, then are you really taking full advantage of the platform? Also.. it's FREE!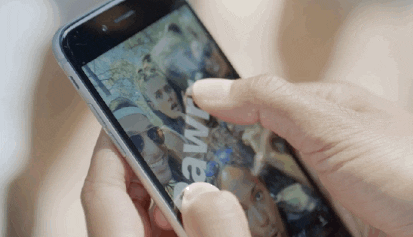 Instagram Stories is a cool way for you and your followers to get more personal in the following ways:
Relationships
Instagram Stories allows you to build a more down to earth or insider relationship with your followers and beyond. You can make more chill, laid back posts that followers can relate to, this creates the more personal vibe that you want.
Brand Recognition
You can get more recognition for your brand through Stories with the use of their features, also it helps that "Instagram's Stories have 200 million viewers a day, known as daily active users — half of all of Instagram's has 400 million daily active users."  – Garett Sloane, Snapchat vs. Instagram: Which Stories Format is Winning? That's why for a young small business getting more brand visibility is more important than selfies are to Kim Kardashian. Yeah, that important.
How to make your Story poppin'
Instagram Stories can do this through its variety of features. Let's dive into why you should use Instagram Stories as a marketing tool:
24-Hour Shelf Life
Each post on your Instagram Story lasts 24 hours. It's more "in the now," feels more personal, and creates a more immediate connection. The short life span of the stories allows you a chance to kick your feet up and lets your audience get to know you in an informal way.
Location stories
One rapidly developing aspect of Instagram is your ability to connect with the people around you geographically through location tags. Now every location (establishment, city, area, etc.) collects both the tagged photo/video posts AND stories. Once you take a picture or video for your Instagram Story, you should use the location tag sticker and it will automatically be added to the story for that location. For example, if you share a story from a concert and tag that venue's location tag, later you'll be able to see ALL the other stories posted to that venue's location! This feature gives you an opportunity to have people who usually don't see your content, actually see your content (HUGE!). 
Hashtag Stories
In short, it's the same logic behind location tags. Hashtags now have stories just like locations, so use this feature strategically to connect to that audience. You never know who could be watching…. #Creepy #Hashtag #DoTheRightThing #Yaaasssss
Who's watching?
You can also track your views on each post you put on your story. With this feature you can see what types of content you got more views on. With that data, it is easier to understand what your followers like and what needs to be posted more in order to get a larger following. Also with tracking your views you could see your progress as a growing small business.
POLLS
A newer feature for stories is the ability to ask your audience poll questions. This can be in direct relation to your brand or just ask them how their Monday is going! It's a quick, free, and easy way to actively engage with your audience. 
Explore Tab
Just like with the location tags, you can get visibility from people who don't follow you with the explore page. When people click on the explore page, Instagram generates stories, pictures, and videos that they may be interested in following. Your brand could possibly pop up on somebody's explore page and there you have another follower.
 Snapchat… is that still a thing?
"This isn't to say that Snapchat does not offer great marketing opportunities for business owners, but differences in functionality and feature is relevant for brands making tough decisions about where to focus their dollars."  –Baldwin Cunningham
If you're already on Instagram, then it's a real easy transition to just start making your story. Snapchat on the other hand,  you'll have to start your account and most likely you'll promote your snapchat on Instagram. Work smarter guys, not harder, ok? Ok!
Also,  Instagram Stories has a larger reach and engagement. According to Ad Age, Instagram Stories has 300 Million daily users. Snapchat only has 150 Million daily users. 
The additional feature Instagram Stories holds, such as the location tags, could help you get more visibility and user engagement. Plus you can't add people through Snapchat stories. 
Pick your target! Instagram also generally has an older audience, Snapchat on the other hand has a younger audience. It all depends on what your brand is targeting as far demographics.
This article has hopefully given you enough evidence as to why you need to start using Instagram Stories. Hello, it's free, remember? As new features come out on our favorite, everyday apps, it's important to utilize them to your brand's advantage! 
Don't know what to post for your first Insta story? Just tag us, @dreamhousebrand, and say hello! We promise we won't leave you on "read".